Production description:
1.Qty of filling head: 4-20 head (depending on the designing).

2.Filling capacity: 50ML-5000ML (Compatible filling capacity tolerance for a single machine is one times. To be determined by
customer requirements).

3.Filling method: Equal-liquid level self flowing type.

4.Filling speed: 6~8 bottles/min. head (500ml bottle).

5.Filling accuracy: ±1%.

6.Program control: PLC + touch screen.

7.Main materials: #304 stainless steel, PVC used in food industry.

8.Air pressure: 0.6-0.8Mpa.

9.Conveyer belt: Stainless steel chain belt of 82mm in width. Speed: 0-15m/min. Distance away from the ground: 750mm±25mm.

10.Conveyor motor: 370W frequency conversion speed regulation motor.

11.Power: 1KW/220V single phase.

12.Capacity of material tank: 200L (with liquid level switch).

13.Protective device: Outage alarm on shortage of liquid in the reservoirtank.
Machine parameter: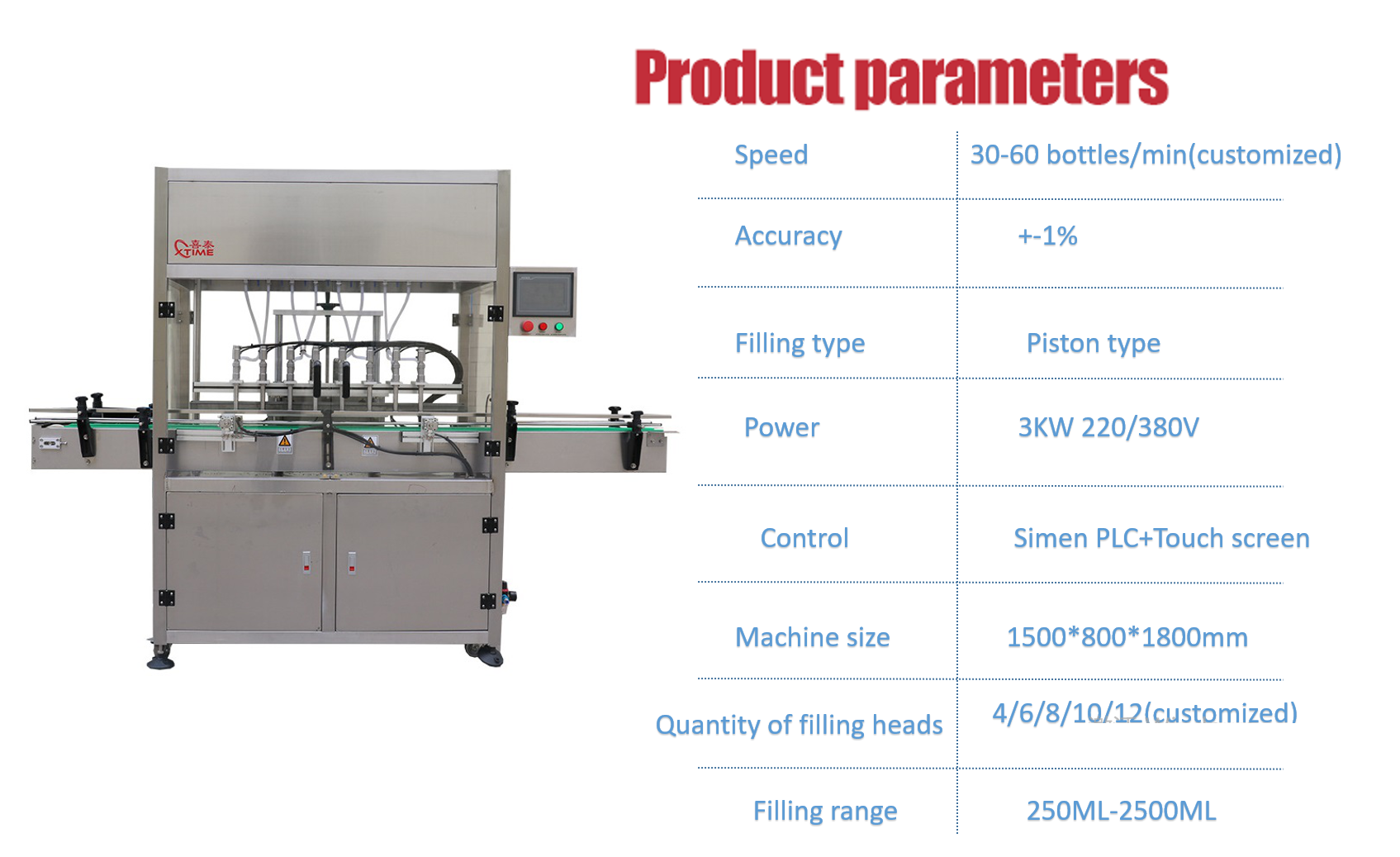 | | |
| --- | --- |
| Sealing speed | 30-60 bottles/min(customized) |
| Accuracy | +-1% |
| Filling type | Piston type |
| Power | 3KW 220V/380V |
| Control | Simen PLC+Touch screen |
| Quantity of filing heads | 4/6/8/10/12(customized) |
| Filling range | 250ML-2500ML |
How to adjust the machine:
1. To replace different types of bottles, the mechanical position of the filling bottle cylinder, the filling bottle cylinder, the filling bottle electric eye, the filling bottle electric eye, the bottle cylinder and the filling nozzle must be adjusted.
2. Filling the bottle with the electric eye must be aligned with the bottleneck of the last bottle. That is, when the bottle is automatically run, the 8th bottle must be placed in the range of the electric eye to be filled into the bottle. The bottle is not cut until the time set by the "Pilling Time" (set in the "Parameter Setting" of the HMI) is reached before the electric eye.
3. Filling and filling the bottle electric eye is installed in the slightly right position of the cylinder of the bottle. When the bottle is started, the cylinder of the bottle is extended, and the cylinder of the filling bottle is retracted; after a number of bottles (which can be set in the "out of the bottle interval" of the human-machine interface), the bottle is retracted and the bottle is started. After all the bottles have gone out (after filling out the bottle electric eyes), the filling bottle cylinders are extended.
4. When filling the bottle and discharging the bottle, the electric eye must be counted in 8 numbers before proceeding to the next step. The user can observe whether the number of bottles and bottles is 8 in the automatic operation screen of the man-machine interface.
Applying Range:
The machine is suitable for filling all kind of liquid,thick liquids(high vicosity) such as alcohol,oil,milk,shampoo,lotion,salading dressing,chili sauce,etc.